A birthday is a special occasion for everyone. It's a time to celebrate your loved one's special day by filling it with more fun and happiness. If you are looking for a gift for your man, you might want to consider something that he will love and that will last him for a long time.
This birthday, try adding a personalized touch to your man's birthday gift and make his birthday memorable. Although it is not always easy to find the perfect birthday gift for your man, but it doesn't have to be hard! To help you out, we have compiled a list of unique birthday gifts for him that will leave him feeling loved and appreciated. Let us have a look at them:
1. Personalized Birthday Gifts for Men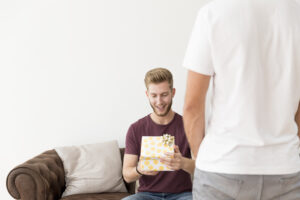 One of the best ways to make your guy feel loved is by giving him a birthday gift. This shows that you have remembered his special day and that you care for him a lot. Let us have a look at a few personalized gifting options for him:
2. Custom T-shirts
Customized T-shirts are a great gift for the man in your life. It is now easy to find the best yet affordable options at Print Mynd online store. Here, the best thing about customized t-shirts is that you can make them as personal as you want.
3. Personalized Hoodies
Personalized hoodies are also an excellent choice if you want to make his birthday special. They will always remind him of his special day every time he wears them.
4. Customized Photo Pillow
This time for his birthday, order a perfect personalized photo pillow that is not only super comfy but and will last longer and will not fade even after many washes.
5. Custom Phone Back Cover
A custom phone back cover will always be an excellent personalized birthday gifts option that can be used every day by him. Also, it will be a unique gift, as it is made just for him.
6. Personalized Beach Towel
A personalized beach towel is a great birthday gift for your man. It's a perfect addition to their beach or pool bag and will make them feel special every time they use it. You can customize the towel with your man's name, initials, date, or anything else you want.
7. Custom Bottles
Custom bottles make a memorable and thoughtful present that he will cherish on his special day. You can customize the bottle by printing your own personal message on it and even add a photo of the two of you to make it more special.
8. Personalized Coffee Mug
Customized coffee mugs are a classic and affordable gift option for the men in your life. You can customize them to say whatever you want: "World's Best Dad" to "My Love". Also, you can add any other design elements that might be appropriate for the occasion, such as a photo of you two together or any favourite saying.
Final Words
There is no such thing as a perfect birthday gift, but choosing one that is personalized will make the occasion more special for your better half.
If you are looking to buy the above-mentioned personalized gifts and feeling confused about finding the best online store, then Print Mynd will be your one-stop destination. Hurry up and order personalized gift today and surprise him with a thoughtful gift that he will love.